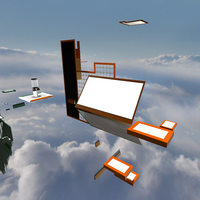 mp_fly by Jack0p



Description: 3 ways: easy (50+ jumps), intermediate (35+ jumps) and hard (70+ jumps). Easy is possible 125 FPS only or without RPG. Intermediate follows the easy way and is for a good part a succession of shortcut. Hard is not too difficult (it does not require perfect RPG jumps and no RPG strafe jumps), but can still be challenging. There is also an Annoying way (7 steps), witch contains glitches discovered while mapping.

Download: Click here



See all maps created by this author.